Scroll Down for NEW Events & Offerings!
Our "12 Days of Christmas" Online Event is ON NOW thru the 12th! Click "Shop Online" & then click "12 Days of Christmas" Online Event!
Don't forget to stop back each to shop our new offerings and "Click & Print" out your FREE puzzle piece! After you have collected all 10 pieces, when put together, it creates A FREE pattern for you to enjoy! HO HO HO!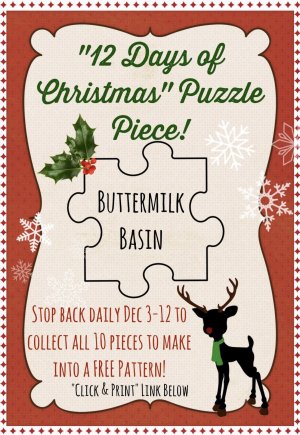 "Trim the Tree" with any of our darling new woolen ornaments!
NEW LIVE EACH SEASON BLOCKS 10 & 11
SWEET OLDE SUMMERTIME Block 4
FREE pattern to print off! KITS available for purchase!
Block 5 of our FREE Live Each Season BOM
ORDER YOUR KIT TODAY!
Here is our NEW Mystery BOM for 2017!
Each 2nd Friday of the month we will release a NEW block! It is designed exclusively for YOU! ENJOY!
We have kits available under Mystery BOM tab above!
If you missed our last "Let it Snow' BOM, you can still get the patterns/kits under the Mystery BOM tab!