Spirit of America Table Topper #2 Pattern and Kit

This table topper is a Basin Cotton Club pattern made new with Stacy's fabric line, Spirit of America! The 28" square quilt looks great in reds and blues! The kit contain all of the fabric to make the quilt top, no backing included.


SALE

$ 34.95 $ 24.95
Quantity:






Faded Blacks & Cream Wovens Bundle

This 4 piece fat quarter bundle in texturey faded blacks and creams will be a great addition to your fabric stash!



Out of Stock
Golden Brown Fabric Bundle

This 5 piece fat quarter fabric bundle is a lovely combination of creams, golds, browns, and blacks!


SALE

$ 17.50 $ 12.50
Quantity:






Homespun Fabric Bundle HFB101

5 fabric fat 1/4's - perfect for your stash, in gorgeous greens and oranges!


SALE

$ 17.50 $ 11.50
Quantity:






Neutral Coarser Weave Fabric Bundle

These neutral fabrics are great for a background for wool applique!


SALE

$ 11.95 $ 8.50
Quantity: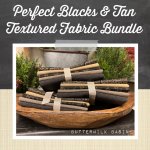 Perfect Blacks & Tans Textured Fabric Bundle

This is truly a Perfect Blacks & Tans Textured Fabric Bundle, 5 fat 1/4's. This combination made us all oohh and aahh when we put it together! the bottom black is a Japanese fabric.


SALE

$ 18.95 $ 13.95
Quantity: