Vintage Vibe by Stacy West

This is Stacy's 4th book and could be your FAV to date!


Price

$ 25.99

Quantity: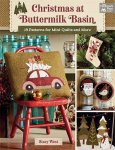 Christmas at Buttermilk Basin! *Book

Christmas at Buttermilk Basin has arrived and it is a gorgeous book! It is 80 pages packed full of 19 projects for you to make and enjoy during the holiday season for years to come! Many kits available separately!


Price

$ 25.99

Quantity:






The Best of Buttermilk Basin

We are so excited to have Buttermilk Basin's newest book available! This is a beautiful book with 17 of Buttermilk Basin's charming projects to create with wool, cotton and thread!


Price

$ 26.99

Quantity:






Seasons at Buttermilk Basin 40+ Project Book

Our first book with Quilt Mania is jam packed with over 40 AMAZING projects for each of the 4 seasons! This book is 224 pages of some of our finest designs, including our "Let it Snow" Mystery Block of the Month that has never been patterned before!


Price

$ 45.00

Quantity: